Apr 9, 2020 05:45 AM Central
Suzanne WEBB WELLNESS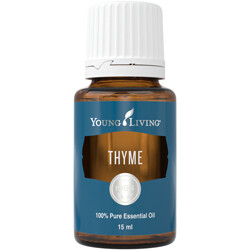 You can make
make a really simple hand cleanser
(that won't dry out your hands!), in seconds! using just 2 ingredients! Aloe Vera gel and an essential oil of your choice - some oils are better choices than others for a hand cleanser. I used Thyme and you will find a little information about it below.
This purpose of this hand cleanser is to keep in in your pocket when you are out and about and where it may be difficult for you to access soap and water! This isn't a replacement for washing your hands - especially at this time (April 2020).
There are over 300 species of Thyme and many species produce their own unique variety of essential oil which are called chemotypes. They are all Thyme oil, but their chemistry is different depending on the climate and other conditions the plant grew in, giving them different characteristics and uses. I am going to use Thyme (Thymus vulgaris ct. thymol) for my hand cleanser recipe.
Thyme has been used for thousands of years. The Ancient Greeks used it to disinfect the air to prevent the spread of disease* and Thyme essential oil was used in World War I to medicate gauze and wool for surgical dressings. It resembles carbolic acid in its actions but it is less irritating to wounds and its germicidal action is greater **
Thyme (Thymus vulgaris ct. thymol) is probably the most well known of the Thyme chemotypes and is the one used in the Raindrop Technique. It contains high percentages of the chemical component 'thymol' which contributes to its potent, sharp aroma. It can reduce germs (on hands, in the air via a diffuser and on household surfaces) and there are many studies that states it supports the immune system***
Safety Note: This chemotype of Thyme essential oil is too strong to be used undiluted for people with a sensitive skin, children and pregnant women.
Recipe for Hand Cleanser:
40mls Aloe Vera gel
20 drops of Thyme essential oil (Thymus vulgaris ct. thymol)
Add the Aloe Vera gel to a 40ml flip top bottle
Add the essential oil
Mix well. Always shake the bottle before use
I only used Thyme essential oil in this hand cleaner, as I consider it to be the most efficient at this present time (April, 2020) when most of us are self-isolating because of Covid-19.
I didn't put a label on this bottle of hand cleanser, as it is just for my personal use and the only place it is
going to be is in my coat pocket!
When I am making products for other people, I would label the container with the ingredients in
the bottle, the date I made it and any safety precautions if necessary.
References:
* Aromatherapy for Healing the Spirit by Gabriel Mojay
* * The Complete Guide to Aromatherapy by Salvatore Battaglia
*** Antimicrobial Properties of Plant Essential Oils against Human Pathogens and Their Mode of Action: An Updated Review.


Follow me on social media :